Village Health Teams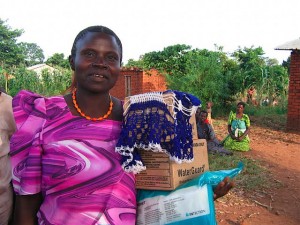 Due to the skyrocketing doctor to patient ratio in Uganda, which the World Health Organization estimates to be greater than 1:24,000, innovative community-level interventions to provide primary care are gaining increasing support. The concept of a "Village Health Team" that serves as a community's initial point of contact for health became part of Uganda's national health strategy in 2001. Despite this fact, by 2009 no Village Health Teams existed in Iganga District. This is another striking example of how a small nonprofit working at the grassroots level can spur change simply by connecting the dots on local resources and mechanisms that already exist but have not been put to use. In partnership with the local government and the local branches of the Red Cross, Uganda Village Project has spearheaded the formation of Village Health Teams in each of the targeted Healthy Villages communities.
Village Health Teams are meant to serve as the primary, village-level health contact for all villages in Uganda, the equivalent of a low-level health center. The members should be capable of relaying basic health information to their neighbors, as well as pointing villagers to the right locations for various levels of health care. The concept is simple, but revolutionary: community members are able to overcome barriers to healthcare access based solely on their motivation to improve the lives of their friends and family.
Our Village Health Teams are trained by government officials as well as by UVP summer volunteer teams. Uganda Village Project volunteer teams also train our Village Health Team members in conducting sensitizations, and often it is Village Health Team members who continue to sell UVP-subsidized mosquito nets or to act as WaterGuard or condom suppliers. Most members choose to have a particular 'specialty' — HIV, family planning, malaria, etc.
Over the course of our three years work in each village, UVP staff and intern teams follow up with our Village Health Teams, help them to pursue further training if they wish (scheduling, for instance, a training with Family Planning Iganga, or introducing members to local health center staff), and act on the advice of the Village Health Team members in planning outreaches and health care initiatives in the village.