Internship Model
Intercultural Team Structure
Each intern team is composed of six interns: two team leaders and four team members. Launch teams will consist of 2 Ugandan interns and 4 international interns. Follow Up and Project teams will consist of 3 Ugandan interns and 3 international interns. Our teams are highly collaborative, led by one Ugandan team leader and one international team leader. Activities and deliverables vary slightly between team type (Launch, Follow Up, Project). See below for more details.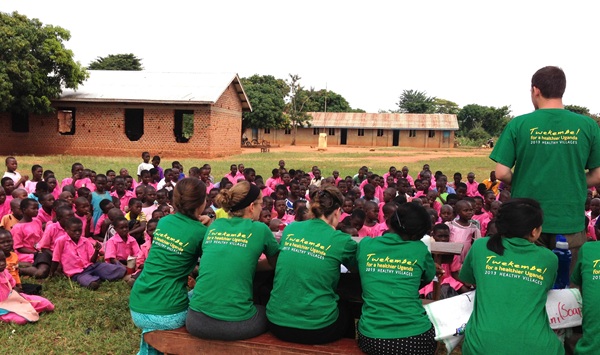 Team Activities
While all teams conduct similar activities, their overall goals will be slightly different. All teams will be responsible for:
Continue training VHT members in general public health knowledge (e.g., safe water, hygiene, sanitation, HIV/AIDS, malaria, family planning, reproductive health, obstetric fistula)
Determine best ways to mobilize and communicate health-related information to community members
Create and conduct structured interviews, including a SWOT analysis and specific program focus groups, in order to provide insight on the issues that affect the health of the village
Develop and implement a sampling method to efficiently obtain household information representative of the village community using UVP data collection tools
Plan, design, advertise, and execute educational outreaches with the VHTs in regards to all UVP program areas while carefully considering creative/effective methods to bolster session attendance and knowledge retention
Collaborate with VHT members to establish or strengthen a supply chain of health intervention products, such as insecticide-treated malaria nets and condoms; track progress of usage
Team Specific Descriptions
Launch Teams help facilitate the start of UVP's working relationship in one new village. The team initiates a three-year community intervention called the Healthy Villages program and builds on the training of the Village Health Team (VHT), a group of voluntary community health workers in the village, and works with the VHTs to introduce UVP's programs. Interns will conduct house-to-house baseline surveys and share the results with stakeholders in the village and use the information to guide planning and implementation activities.  For 2018, there will be 4 Launch Teams.

Follow Up teams work with villages at the beginning of their second year in the Healthy Villages program.  Each team of 6 interns will work with two villages to evaluate the efficacy of program initiatives through monitoring and evaluation activities. Interns will continue to build the capacity of VHTs by encouraging innovation in educational approaches tailored specifically to their community. Teams will collect house-to-house follow up surveys and analyze and compare findings from the baseline data to measure the progress of the community and share the information with stakeholders to identify key successes and setbacks of programming. For 2018, there will be up to 2 Follow Up Teams.

Project Teams are the final intern presence in the village in the third year of the Healthy Villages program. Their primary goal is to evaluate previous activities and identify the most pressing health issues still facing the village. While these teams do not conduct formal data collection, each team of 6 interns will work with two villages to collect Most Significant Change interviews, program specific focus groups, and SWOT analysis along with other documentation. The Project Team will work with VHT members and other local leaders to address these obstacles before the village graduates from the Healthy Villages program. For 2018, there will be up to 2 Project Teams.

*For more details on intern-specific requirements and responsibilities, please see the Intern Qualifications page.