Kim Lomax, MPA, Board Chairperson – Kim has volunteered with UVP since 2014: first as a grant writer and editor, then as Chair of the Grants Committee, and now as Board Chair.  She is an experienced nonprofit development manager, grant writer, and project manager. While completing her MPA, she developed a service-learning program that matched graduate students with international development NGOs.  She is Development Director at Quilts for Empowerment, a nonprofit serving women and girls in rural Kenya who have experienced gender-based violence. When she is not volunteering with UVP, you can find her planning trips with her family, hiking in the Pacific Northwest, or training for another triathlon. She lives in Portland, Oregon.
Email: Kim ( at ) UgandaVillageProject.org
Alison Hayward, MD, MPH, Assistant Board Chair & Co-Founder – Alison works as an emergency medicine physician at Brown University Emergency Medicine in Providence, Rhode Island. She has been involved in Uganda Village Project as co-founder since its inception in 2003 and served as director and assistant director from 2005 to 2013.
Email: Alison ( at ) UgandaVillageProject.org
Stephanie Kaye, MBA, Treasurer – Stephanie has spent the past decade working and volunteering with a variety of non-profit organizations.  She spent many years as the Financial Director of Street Kids International based in London, UK before relocating to America with her husband's job.  Whilst in Utah, she joined the boards of both the local ski and lacrosse organizations. She has an MBA from Carnegie Mellon University and an undergraduate degree from the University of Manitoba.  She currently lives with her husband, three children, and two dogs in Verbier, Switzerland.  She is an outdoor enthusiast and triathlete in her spare time!
Email: SKaye (at) UgandaVillageProject.org
Rachel Piontak, MA, Internship Chair – Rachel served on the Orphan Support Team in 2006 and from this experience, went on to pursue her Master's in International Development from the University of Cape Town. Her research focused on mobile-based agricultural initiatives for small-scale farming in northern and western Uganda. She completed her graduate degree in 2012 and currently works as an Academic Coach for engineering students at the University of Arkansas in the hilly and green Fayetteville, Arkansas.
Email: Internships (at) UgandaVillageProject.org
Dick Schroth, IT Officer– Dick is the founder and president of Schroth Systems Consulting and has been developing custom database applications for the last 30+ years. He graduated from Middlebury College with a degree in Economics in 1971. He lives with his wife, Linda in Connecticut and has three children (Alison, Jon, and Brian), and four young grandchildren. He has volunteered with Habitat for Humanity and Big Brothers and spent a month in Iganga, Uganda in 2009 volunteering with UVP. When he is not working, you will probably find him biking, hiking or playing tennis.
Email: Dick ( at ) UgandaVillageProject.org
Carey Walovich, MPH, Grants Chair – Carey is a grants and program management professional. She previously worked with the Fistula Foundation to improve access to obstetric fistula repair surgery throughout Africa and Southeast Asia and with the International Centre for Diarrhoeal Research in Bangladesh to track the country's cesarean delivery trends. While completing her MPH from the Fielding School of Public Health at UCLA, she led the grassroots organization Creating Space, to create safe lactation spaces in public universities. She currently lives in Brooklyn, New York.
Email: Carey (at) UgandaVillageProject.org
Elise Davis, MPH, Co-Chair Development & Marketing Committee – Elise is a contractor for the U.S. Agency for International Development, supporting programs on infectious disease outbreak response and building capacity of sub-Saharan African countries' ability to prevent, detect, and respond to infectious disease threats. Elise has been passionate about health and international development since childhood, when she first started fundraising and advocating for the Haitian Timoun Foundation, of which she is also a board member. She has a Bachelor's degree in Neuroscience and Africana Studies from Augustana College (Rock Island, IL), and Masters in Public Health with a concentration in Epidemiology and Health Systems and Design from Texas A&M University. In her free time, Elise loves to cook, hike, compete in Olympic weightlifting, and she looks forward to a time when she can get a dog.
Email: Elise (at) UgandaVillageProject.org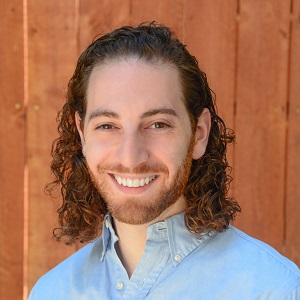 Jeff Jacobs, MPH – Co-Chair Development & Marketing Committee – Jeff has volunteered with UVP since 2020. He has a decade of private, non-profit, and government sector experience in data analysis, project management, and grant writing and management. Jeff holds a BBA from the Ross School of Business at the University of Michigan and an MPH in Community Health Sciences from the Fielding School of Public Health at UCLA, during which he completed field work in Bangladesh. Outside of work, he enjoys photography, playing music, and traveling. Jeff is passionate about global health, health equity, and strengthening health systems. He lives in Brooklyn, New York.
Email: Jeff (at) UgandaVillageProject.org
Brian Ourien, Member-at-Large – Brian is a communications specialist who previously worked at International Justice Mission in Uganda where he led public information campaigns and high-level advocacy engagement to galvanize community leaders, the police force, and the judiciary to stop forcible eviction and land grabbing in Uganda. He currently resides in New York City.
Email: Brian (at) UgandaVillageProject.org
Alicia Majeau, MSc, Member-at-Large – Alicia served as a Healthy Villages summer intern with UVP in 2011 and returned to Iganga District in the summer of 2012 as a team leader. Following her experiences with UVP, she went on to receive her Master's of Science from Johns Hopkins' Bloomberg School of Public Health and is currently pursuing a PhD in Tropical Medicine at Tulane University. With this background in molecular microbiology, Alicia's interests lie in combining laboratory-based approaches of disease control with hands-on public health interventions.
Email: Alicia ( at ) UgandaVillageProject.org
Stephanie Ullrich, MPA, Member-at-Large – Stephanie is passionate about the intersection between food security, forced migration, livelihoods, and innovation. She is a results-oriented development practitioner with experience working internationally and in the U.S., with multilaterals, government agencies, universities, and nonprofits. She recently worked with the United Nations migration agency IOM, the U.S. Congress on agriculture and oversight, and with United Nations Development Programme supporting environment and disaster risk reduction projects. Stephanie is currently a USAID Donald M. Payne International Development Fellow.
Email: Stephanie ( at ) UgandaVillageProject.org
Project Co-Founders: Brent Anderson, Kirk Scirto, Alison Schroth Hayward
Email the executive board at info@ugandavillageproject.org.