#EmpowerOthers #EmpowerYourself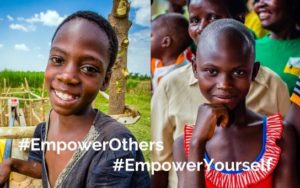 Let's work together to #EmpowerOthers. By providing education about how to prevent common diseases, together we can change the future of young girls in rural villages. See just how much of an impact you can make; a little goes a long way – a lot goes even further!
Hygiene Education and Hand Washing Devices

When a girl is taught about the importance of hand washing and proper defecation practices, she takes that with her throughout her life, eventually teaching her children healthy habits she learned as a girl.

HIV Education, Testing, and Counseling

Adolescent girls are disproportionately affected by HIV because they are more likely to contract the disease. By teaching adolescent girls how to prevent HIV, we can drastically reduce the chances of young girls contracting the disease and lower the overall HIV prevalence in rural communities.

Reproductive Health and Access to Contraceptives

There are many high risks for a pregnant adolescent girl: they are more susceptible to tragic childbirth injuries and they drop out of school. By educating young girls on ways to delay their first pregnancy and plan for an appropriate size family for their situation, girls can have healthier lives and provide better situations for the children they choose to have.

Malaria Education and Access to Mosquito Nets

More severe than the common flu, malaria is also deadly. When young girls can prevent malaria, they spend more days in school and their families spend less money treating them. Less money spent treating illnesses is more money available to pay school fees.

Holistic Health Education and Preventative Health Access

It's difficult to pick just one! Health prevention is not a one size fits all and works best when approached in a holistic way. If you simply can't decide which program is most important to changing a young girl's life, support them all!